People
People of I³R
Our leadership, staff and researchers are the heart of I³R. Their collaboratory spirit and work lead change and find solutions.
Ranu Jung, Ph.D.
Founding Executive Director & Endowed Chair
Dr. Ranu Jung is the founding executive director and endowed Chair for the U of A's Institute for Integrative and Innovative Research, Associate Vice Chancellor, and Distinguished Professor of biomedical engineering. Dr. Jung is one of the world's foremost researchers in biomedical and neural engineering, has led multiple transdisciplinary research teams and grants, has more than 100 refereed publications, and 14 U.S. patents. A champion for innovation and entrepreneurship, she develops devices that lead to scientific advances with clear pathways to clinical application.
Ranu and I3R are featured on the University's "Determined" website, which highlights the people and programs that make a positive difference for the state of Arkansas and beyond.
Ranu also was interviewed for a recent "Short Talks from the Hill" podcast on her vision and dreams for the Institute.
Dean Matt Waller of the Sam M. Walton College of Business interviewed Ranu on his popular "Be Epic" podcast.
Advanced Technology Team
Industry & Community Engagement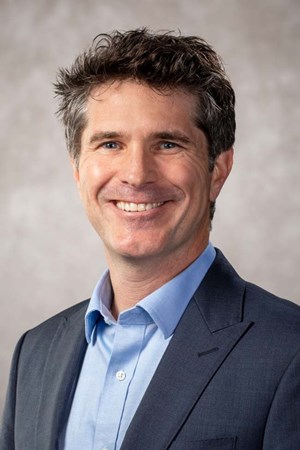 Andy Albertson
Director of Strategic Communications and Engagement
Andy is a two-time winner of the Council for the Advancement and Support of Education's highest communications honor, the Award of Excellence, for both speechwriting and comprehensive public relations campaigns. In his time with the University of Arkansas, he has served as an executive communicator, director of communications for the School of Law, and senior director of research and economic development communications. He was project lead and executive editor of "Determined to Help," highlighting the U of A's efforts to solve the issues presented by the coronavirus pandemic and support those affected by it, and currently serves on the University's UA ENGAGE initiative to support and empower women faculty in STEM.
He holds a Master of Fine Arts in Fiction from the Programs in Creative Writing at the University of Arkansas, where he was the inaugural winner of the Claude W. Faulkner Award, presented to the outstanding English graduate instructor and scholar.
(VCRI)-Vice Chancellor - Research & Innovation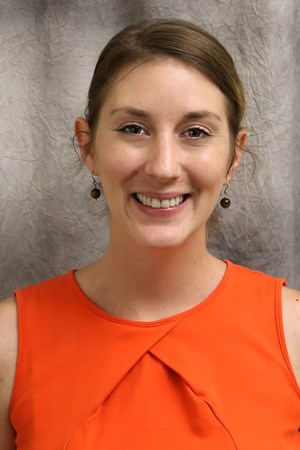 Laura Fickett
Associate Director of Digital and Creative Services, UXC
Laura's areas of expertise are print, web and digital media design, front-end web development, user interaction and user experience, accessibility, research and analysis, marketing strategy, and visual storytelling. Laura has an A.A.S. in graphic design, a certification in user experience with a specialty in interaction design from the Nielsen Norman Group, and 13 years of industry experience. Research has always been an area of interest and enjoyment for Laura. She began her career at the University of Arkansas in the College of Engineering, working directly with a wide range of researchers on campus to tell the world about their work through the college's various communication channels. Laura prides herself on her ability to bring large-scale ideas to fruition through collaboration, determination, and always asking, "how can we do this better?"
"Creating a color palette for print and web that is accessible and people will actually use"
(VCRI)-Vice Chancellor - Research & Innovation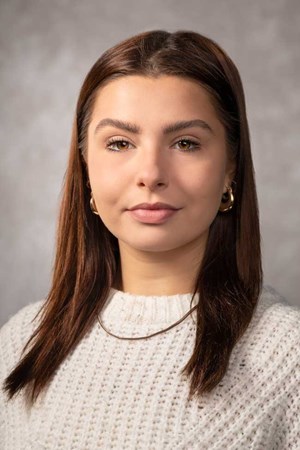 Nicole Wegrzyn
Communications and Marketing Assistant
Nicole is a current student at the Sam M. Walton College of Business with a concentration in marketing. Nicole is projected to graduate in 2024, with goals to eventually own her own digital marketing agency. In 2020, Nicole began to work with clients and businesses in Chicago, IL promoting brands and increasing sales through multimedia campaigns. Ambitious and result oriented, she developed her LLC as a senior in high school. Now working with the groundbreaking team, she has been part of building the Institute's presence from the ground up. With a focus on social media and media production, Nicole seeks to blend creativity with strategy. She is driven to revolutionize how digital media and technology are used in business and society today.
(VCRI)-Vice Chancellor - Research & Innovation
Operations